The 2015 Toyota Camry vs. 2015 Nissan Altima!
Drivers looking for mid-size sedans will naturally gravitate to cars like the Toyota Camry or Nissan Altima. Though they might appear very similar on the surface, there are several areas where the 2015 Toyota Camry will offer an owner advantage over an equivalent Altima. Let's take a look.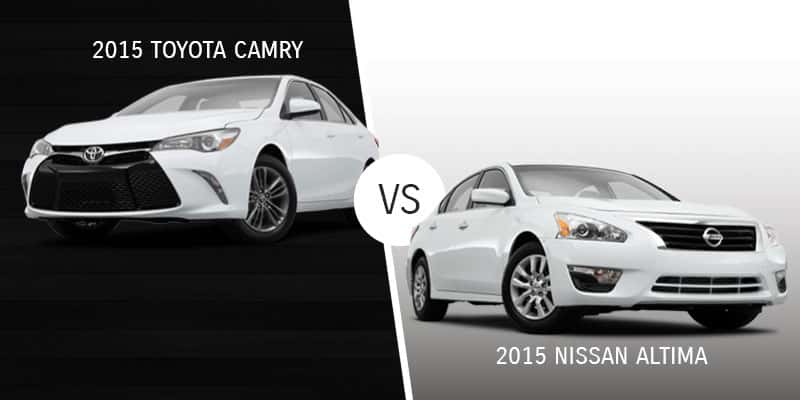 First, let's compare the mid-range trim Camry LE and the Altima 2.5 S. We will not compare pricing, because incentives and dealer differences can cause a range of pricing, making any comparison moot. We will simply say that all models are comparable when looking at MSRP, the manufacturer's suggested price.
Both vehicles use a 2.5 liter 4-cylinder engine with equivalent gas mileage ratings. An advantage goes to Toyota for owners interested in interactive driving, because they use an automatic transmission with manual shift mode. A big advantage of the Camry, for owners interested in environmental impact, is the fact that the Camry has a hybrid version available while the Altima does not.
The interior of the Camry has a sliding center armrest vs. the static Altima armrest. A powered multi-adjustable driver seat is standard in the Camry, while optional in the Altima.Interior roominess places the 2015 Camry higher than the Nissan Altima. There is one inch higher headroom at the rear seat of the Camry. There are over two inches more rear legroom in the Camry, as well as about the same amount of additional hip room in the rear. Front shoulder room is greater in the Camry.
On the vehicle exterior, the Camry has a standard heated outside mirror, while this is an option on the Altima. A rear camera is also standard, also an option on the Altima. For those owners who enjoy the outdoors, a big advantage is the optional power moonroof on the 2015 Camry, an option that is not available on the Altima. Voice activated controls are standard on the Camry, but not available on the Altima.
The 2015 Camry shows some advantages when comparing safety equipment and ratings. The National Highway Traffic Safety Administration (NHTSA) issues safety ratings for different kinds of simulated crashes, based on how the vehicle responds and protects the occupants. In the passenger front crash test, the Camry received the highest rating of 5, the Altima a 4. Camry offers front knee airbags, Altima does not.
Today's car manufacturers work hard to design cars that suit their owners, and Toyota has designed an excellent sedan in the 2015 Camry. If its advantages sound good to you, come to Doral Toyota and we can help make it your next car. Our FL Toyota Dealer can help you take advantage of our FL Toyota Finance options this Spring!