2016 Toyota Camry vs 2016 Honda Accord
The 2016 Toyota Camry continues to dominate the mid-size sedan market segment, with good reason due to its good looks and sporty performance. Honda continues to try and chip away at the Camry dominance but hasn't been successful yet. Let's look at some reasons why this is true.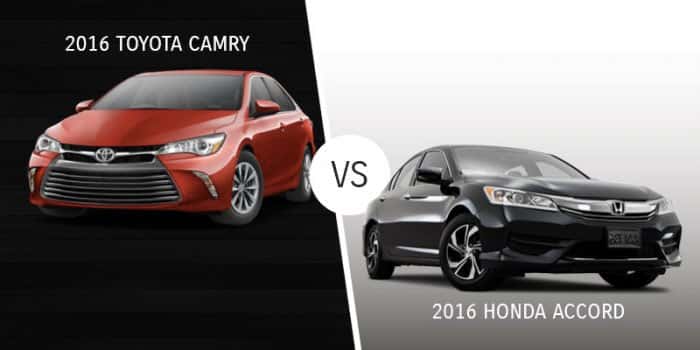 The Camry has a much sportier exterior, with a muscular grille that moves smoothly into the headlights. The Accord grille has been reconfigured for 2016 but still has a boxy look reminiscent of earlier models. The Camry has a rear spoiler available that adds to the sportiness many drivers appreciate.
Some driver convenience features go to the Camry, with an available premium radio system and navigation available, unlike the Accord. Toyota's Entune® premium audio system with apps provides a rich sound and technology at a driver's command. A powered driver's seat is standard in the Camry, but not available in the Accord. Another feature many owners consider important is a powered moonroof, which the Camry has but the Accord does not.
The Camry has a turning circle about 1.5 feet smaller than the Accord. This can become important if you are a city driver, or have to maneuver regularly in tight parking lots. The tighter turning circle of the Camry will make these tight spots a piece of cake.
All newer cars incorporate a range of safety features, from airbags, impact crush zones, and strengthened impact beams in the frame and doors. The Camry and Accord are no exception, but the Camry incorporates two airbags the Accord doesn't have. The 2016 Camry has front passenger knee airbags to protect the lower limbs in frontal crashes, and it has rear side airbags for your passengers in the back, also not available in the Accord. Speaking of the rear seat, your passengers also have a bit more head, hip, and leg room in the back seat of your Camry.
If the look and engineering of the 2016 Toyota Camry interest you, please come to Doral Toyota and let's get you one to your liking. We look forward to serving you. Our Toyota Dealer is located in Doral near West Kendall and Westchester! Don't forget to take advantage of our Finance options this Season!