2020 Toyota Supra Specs
Tracing its origins all the way back to the 1978 Celica, the 2020 Toyota GR Supra is a high-power sports car that has been perfected over decades. To help you decide if this vehicle is well suited to the thrills of your Doral, Kendall, Hialeah, and Miami lifestyle, Doral Toyota created this helpful breakdown of its specs. Read on to learn more about the high-powered engine and interior and exterior dimensions of the GR Supra. If you have any questions, reach out to our dealership today.
A Distinguished Engine Specs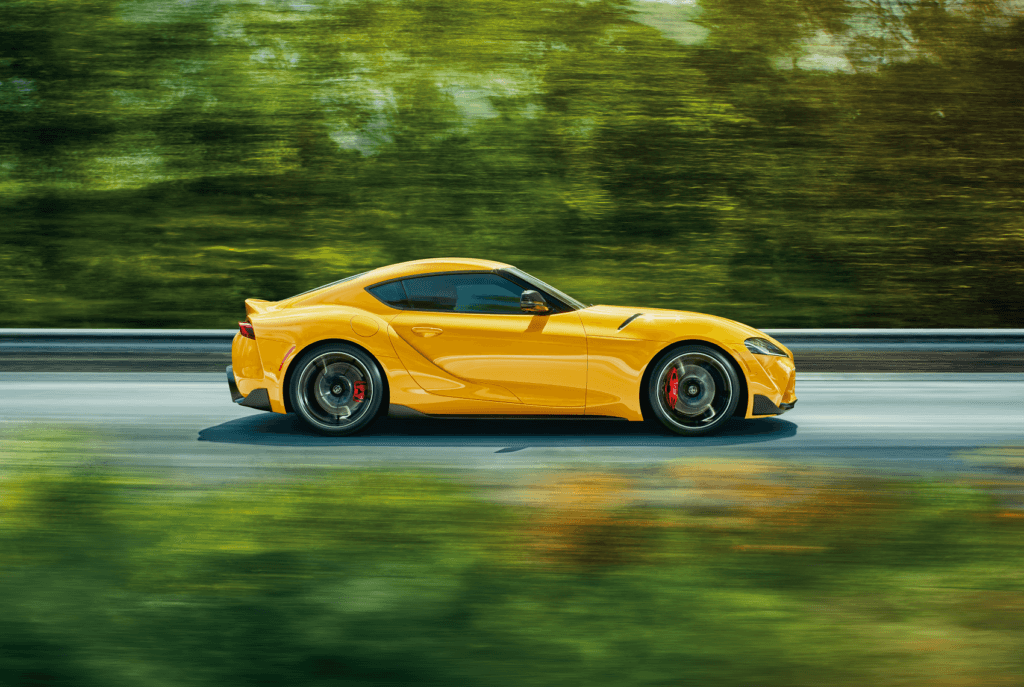 If you're looking for a vehicle with quick accelerations and a smooth performance, then the 2020 Toyota GR Supra is a great option. The 3.0L twin-scroll single turbo 6-cylinder engine equipped on this sports car churns out 335 horsepower and 365 lb-ft of torque to help you go from 0 MPH to 60 MPH in just 4.1 seconds. Reaching a top track speed of 155 MPH, this car is clearly designed to create a thrilling and unique driving experience.
To help you achieve optimal performance, the GR Supra features an expertly crafted and balanced design. The engine and 8-speed automatic transmission are situated as low as possible to create a low center of gravity for optimal handling and performance. So, whether you're taking your car out on the racetrack or cruising to work, you'll be fully engaged in the ride.
Exterior and Interior Specs
With a length of 172.5 inches and a height of 50.9 inches, the 2020 GR Supra is a sleek vehicle that can easily zip through rush hour traffic during your morning commute. The GR Supra also features a wide stance of 73 inches that's perfectly calculated to match its wheelbase, resulting in a chassis that delivers high-speed comfort and agility.

Despite its petite frame, this 2-seater sports car still offers ample room for you and your passenger. With 42.2 inches of legroom, you can ride around your hours comfortably and enjoyably. Additionally, this vehicle provides 10.2 cubic feet of trunk space, perfect for fitting your briefcase or weekend bag.
Sporty Features

To help you enjoy the ride even more, the GR Supra is packed with athletic features designed to enhance your ride. When you're taking sharp turns, its sport seats will help to keep you in place. Designed with deep side bolsters and high-grip materials, these seats create maximum hold to help you to stay upright and combat driving fatigue.
From the comfort of your seats, stay engaged with your ride through the 8.8-inch high-resolution display placed directly behind your leather-wrapped, telescopic steering wheel. In addition to displaying key driving information like current speed, entertainment, and navigation, a prominent, center-placed tachometer updates you on current and recommended gear selections to help optimize your car's performance.
Test Drive the 2020 Toyota Supra Today!
After reading about the specs of the 2020 Toyota GR Supra you're probably excited to get behind the wheel of this exhilarating sports car. If so, visit Doral Toyota today. One of our sales associates will happily take the time to show you all the features equipped on this ride to help you better decide if it suits your Doral, Kendall, Hialeah, and Miami lifestyle. Then, we'll take you for a spin so you can feel the power of the 335-horsepower engine firsthand. Contact our dealership today to set up a test drive!