Download the 6 Steps to Buying a New Car eBook Today!
Shopping around for a new car can be equal parts fun and frustrating, especially if it's your first time navigating a showroom or lot. While it can be an involved experience, there are several steps you can take to help prepare for the experience of buying a new car. At Doral Toyota, we recognize that buying a new car can be stressful. To help, we're offering this FREE eBook, 6 Steps to Buying a New Car. In this eBook, you'll discover: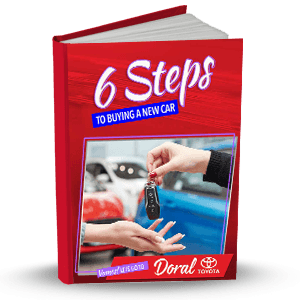 Choosing a vehicle that fits your needs
What to look for before you buy
Learning more with a test drive
Getting the right incentives and financing plans
Getting your FREE copy of this eBook is easy. All you need to do is fill out the form on this page with some basic information and click Submit. You'll get your copy of 6 Steps to Buying a New Car, along with some money-saving coupons that you can use during your next visit at Doral Toyota.