Download the Test Drive Checklist Today!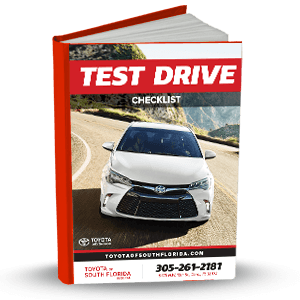 Have you been eyeing a new car to get around town? One way to solidify your decision and make sure it's the vehicle you want is by taking it out for a test drive. The test drive is an important part of the car buying process because it's your first impression. However, many drivers are too nervous or excited to really take notice of the vehicle and its features. But don't worry, we'll make sure you don't miss a thing.
With our FREE eBook, the Test Drive Checklist, you'll learn a great deal about what to look for and what to focus on during the test drive. In our eBook, you'll receive tips like:
What to look for when you're behind the wheel of the car
Keeping your eyes open during the test drive
Help with evaluating the vehicle
Getting your copy of this eBook is easy. All you need to do is fill out the form on this page and click Download Now. We'll send you your copy of the eBook right away, along with some money-saving coupons that you can use during your next visit at Doral Toyota.