Toyota C-HR Interior

When you're looking for a stunning crossover to take through the streets of Doral, Miami, Kendall, and Hialeah, you have plenty of options to choose from. Crossovers have become the second most popular class of car in the country, so the market is filled with a diverse selection of models, most of which have something special to offer.
If your priority is the interior, the Toyota C-HR may be the right crossover for you. With generous interior space, design, and features, the C-HR stands to be one of the greatest crossovers currently available. Learn more about the Toyota C-HR interior, and discover if it measures up to your standards.
Toyota C-HR Interior Dimensions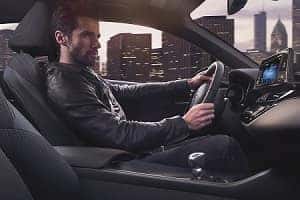 To get an idea of what the interior of this vehicle is like, you need to take a look at the dimensions. Up front, you'll be able to enjoy 38.1 inches of headroom and an impressive 43.5 inches of legroom. Meanwhile, your rear passengers can enjoy 38.3 inches of headroom and 31.7 inches of legroom.
If you're more interested in the cargo capacity, the C-HR has a lot to offer. Even with all the seats up, you can still enjoy 19 cubic feet of cargo space, which is more than any sedan can offer. Fold the rear seats down, however, and that space expands all the way to 36.4 cubic feet. With the standard 60/40 split rear seats, it's easier than ever to customize your storage space and passenger combination.
Look and Feel
Every interior needs to be functional, of course, but you deserve something more than that. You deserve style in your vehicle, and the C-HR can deliver. The diamond-inspired interior is subtle, yet noticeable when you look at the diamond shapes on many surfaces inside. This creates a sleek look that other cars would dream of having.
If you're a fan of leather, the C-HR has plenty. You'll find a leather-trimmed steering wheel along with a satin-pleated shift knob inside. With the way this is set up, your cabin offers the best of both worlds with its elegant combination of luxury and sportiness.
Technology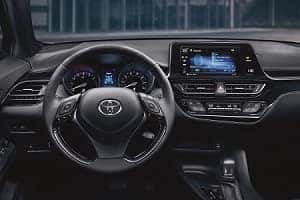 No modern crossover would be complete without some impressive technology inside. You'll find plenty in the C-HR, like the standard dual zone automatic climate control. With this system, both you and your front passenger can enjoy different temperatures, allowing everyone optimal comfort. For extra comfort, make sure you opt for the heated front seats that will keep you warm and cozy during those winter nights.
One of the more interesting pieces of tech is the standard auto-dimming rearview mirror with integrated backup camera. Not only does this mirror automatically darken when it is hit with bright lights, but the backup camera is implemented right on the mirror itself, allowing you to look at both the reflection and the camera display. You won't find a convenient view of your vehicle's rear like that anywhere else.
Test Drive the Toyota C-HR
To learn more about the Toyota C-HR interior, you'll need to see it for yourself. That's where Doral Toyota can help. We're your premier Toyota dealer in the Doral, Miami, Hialeah, and Kendall areas, and our friendly team is happy to help. Contact us today, and we'll set you up with a test drive.