Toyota Highlander vs Toyota RAV4

Two of the most popular cars in Toyota's lineup, the Toyota Rav4 and the Toyota Highlander, are perennial favorites on roads throughout Doral, Hialieah, Miami and Kendall. Many people are curious as to what exactly the differences are between these two. With that in mind, let's compare the Toyota Highlander vs. Toyota Rav4 so you can decide which of these crossover SUVs is the best choice for your daily needs.
Toyota Highlander vs Toyota Rav4 Size Comparison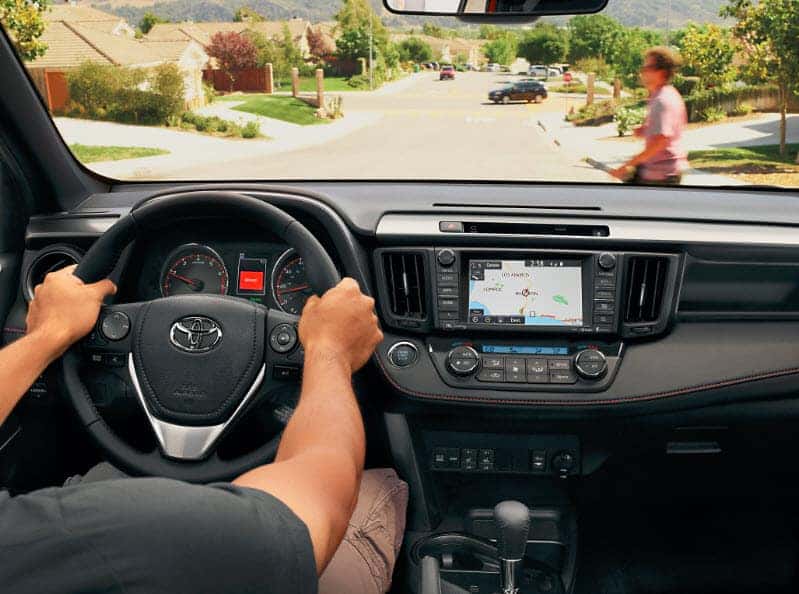 Perhaps the biggest difference between the Toyota Highlander and the Toyota Rav4, and that upon which all the other differences hinge, is the size. The Toyota Rav4 is a small crossover SUV, whereas the Highlander is a midsized crossover. In general, this means the Highlander will have a larger engine, greater capacity, and more room inside, while the Rav4 will offer greater fuel economy and a more car-like driving experience.
Toyota Highlander vs Toyota RAV4 Similarities
Despite their size difference, the two vehicles have a lot in common. Both are driven by a 6-speed automatic transmission and come standard front wheel drive, with optional AWD upgrade. Both feature the same Toyota Entune® Infotainment System, complete with Bluetooth® for phone and audio, auxiliary input, USB port, and MP3 interface. Both the RAV4 and Highlander feature similar interior materials and upgrades, and most importantly, both have the available Toyota Safety Sense™ P suite.
The Toyota Safety Sense™ P suite is a set of high-end active safety features, which help to protect you on the road by adding an extra set of eyes and hands while you drive. These include Low-Speed Automatic Braking, Lane Departure Alert, and Lane Keeping Assist, and a range of other active features all working in concert and making these some of the safest vehicles around.
Toyota RAV4 vs Highlander Fuel Efficiency
If fuel economy and handling are your primary attraction in a sport utility vehicle, the new Rav4 might be the vehicle for you. Its base 2.5L inline 4-cylinder engine gives you 176 horsepower backed up with 23 MPG in the city and 30 MPG on the highway, according to EPA estimates. Its shorter wheelbase and length mean it has a shorter turn radius and handles more athletically than the larger Highlander. While its EPA-estimated fuel economy is 20 MPG city and 24 MPG highway, the Toyota Highlander's 2.7L 4-cylinder engine provides 185 horsepower and 184 lb-ft of torque.

Cargo and Passenger Space
The Highlander, on the other hand, offers more space and power. It has seating for 8 as opposed to the Rav4's 5-seat capacity and offers 83.7 cubic feet of storage instead of the Rav4's 73.4 cubic feet. It may be a better option for those looking for a family vehicle.
Test Drive Both at Doral Toyota
If you're curious as to which SUV is better for you, you can check out both the Toyota Highlander and the Toyota Rav4 at Doral Toyota. Browse our inventory online before stopping in and to take a test drive on the Hialeah, Doral, Miami and Kendall roads today!