Toyota Trim Levels
At Doral Toyota, we're always happy to help our drivers in the Doral, Kendall, and Westchester areas when they're trying to learn more about the different Toyota models so they can decide which model is right for them. Our vehicle reviews and vehicle comparisons are useful in showing you what the vehicle offers to its drivers in terms of power, space, entertainment, and safety. However, once you've figured out which model you want, you'll want to determine which trim level is right for you.
That's why we have these Toyota trim level guides. You'll learn all about the different versions of your favorite Toyota model. By reading these guides, you'll know the exact model and trim that's right for you.
2018 Toyota Corolla Trim Levels
2018 Toyota Highlander Trim Levels
2018 Toyota Tacoma Trim Levels
2017 Toyota Corolla Trim Levels
Our Toyota Trim Level Guides
It's always important to know exactly what you're getting, especially when it comes to purchasing a new car. These trim level guides serve a very important purpose by giving you a glimpse of what each trim level offers. Some vehicles have numerous trim levels, and it can be pretty difficult to figure out what each of them offer. However, these guides make the research process easier by explaining each Toyota trim level and its respective features.
How These Guides Help You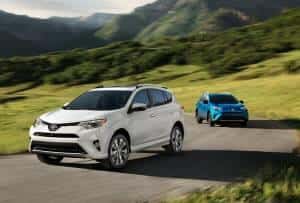 On top of helping you differentiate each trim level offered by the vehicle you're interested in, these trim level guides can show you some different features that you previously may have been unaware of. The higher trim levels almost always have a suite of fun amenities and sophisticated technology features. After reading and learning about these impressive features, you can't imagine having a car without them.
These guides are also helpful at making you adept and aware of the vehicle that you're intending on buying. You can cut down your time at the dealership because you're learning on your own time. When you arrive, you'll know exactly what vehicle and trim level you want.
Are These Guides Required?
Our Toyota trim level guides are simply here as a helpful resource for drivers who have a good idea of what model they want, but aren't sure which version. While these guides can be very informative to drivers in their search for their next car, they aren't required reading. We just want to be a helpful resource to drivers in our area who are currently looking for their next car, and need a little help and guidance.
If you're in the market for a new vehicle, simple locate the one you're interested in on this page, click, and learn about the varying features that are available with its trim levels.
Doral Toyota proudly serves drivers in the Doral, Kendall, and Westchester areas. Schedule your test drive with us today!