Toyota Tundra vs Chevy Silverado

Full-sized pickup trucks are growing in popularity all over the roads of the United States, including the Miami, FL, region, in places like Doral, Hialeah, and Kendall. As manufacturers scramble to produce vehicles that will perform in an increasingly competitive field, certain pickups come to the forefront, sometimes in surprising ways.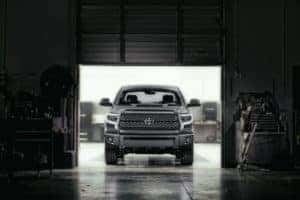 Two of the best pickups on the roads today are the Toyota Tundra and the Chevy Silverado. They're very close in many ways, but it's not surprising that drivers wonder which might be better for their daily work and play needs. Let's look at a direct battle between the Toyota Tundra and the new Chevy Silverado, and find out which full-sized pickup is the better truck.
Toyota Tundra vs Chevy Silverado
The Toyota Tundra is in the middle of a cycle this year, but it still manages to hit showrooms with a leading suite of technology, engine performance, and power that many other manufacturers simply can't beat. New features this year include the integration of last year's off-road TRD Pro package as a brand-new trim level with a special hood scoop and off-road shocks and wheels.
The Silverado, on the other hand, had a lot of catchup to play, so it's coming out with a full redesign this year. That means that there's likely to be additional tweaks over the next few years, to fix things that weren't quite right upon immediate release.

Power and Performance
The new Silverado has a number of engines in its lineup, starting with a 2.7L 4-cylinder engine. If you want V8 power on the Silverado, you'll have to step up at least one additional trim level. The Tundra, on the other hand, comes standard with a V8 engine.
Stepping it up the same amount with the Toyota nets you a V8 that gives you 381 horsepower with 401 lb-ft of torque, while the first V8 option from Chevy nets only 355 horsepower and 383 lb-ft. There is a more powerful engine on the Silverado, but to get to it you'll need to step all the way up to the highest end luxury trim level with commensurate additional cost.
Trim Levels and Technology
One area where Toyota really shines is the technology it makes available in its vehicles. Even the entry level Toyota Tundra brings you features like heated mirrors, wiper de-icer, and full infotainment system with touch-screen interface, CD player, Bluetooth®, and USB ports. Chevy's entry trim provides similar infotainment features, but it doesn't give you the cold weather features.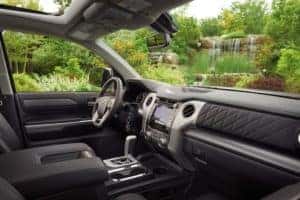 In addition, where Toyota takes it to a level Chevy can't match is active safety. Every Toyota comes standard with the Toyota Safety Sense™ package with features like Front Crash Warning and Mitigation via Automatic Emergency Braking, Lane Departure Warning Features, Adaptive Cruise Control, and Automatic High Beams. These all combine to keep you ultimately safe on the roads.
Chevy, on the other hand, gives you none of these safety features until you step all the way up to the top-end trim or pay for an extra safety add-on package.
Drive the Tundra at Doral Toyota
If you're in the Doral, Hialeah, Miami, or Kendall areas of South Florida, Doral Toyota can help you get behind the wheel of the Toyota Tundra. The Tundra is the winner in terms of value, power, and especially safety. Stop into our showroom to check it out today!