Flooded Car Repair Doral FL
If your car was damaged by flooding, you're probably wondering what your options are now. We at Doral Toyota have good news for drivers in Doral, FL: We can help!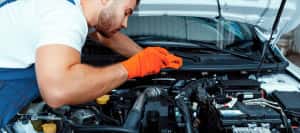 Below, you'll find useful information about flood damage, our dealership, and the services we provide for those in need of flood damage repair. Keep reading to get the ball rolling on putting flood damage behind you.
Flooding in Doral FL
Doral, a suburb of Miami, is just miles from the coast where Southern Florida and the Atlantic Ocean meet. Most of the year, this area is showered with sunshine and pleasant temperatures. However, as a coastal city, it experiences a high risk for hurricanes, which brings with it a high risk for flooding.
Not only is flooding a potential danger to the citizens of Doral, but it can cause damage to buildings, businesses, and vehicles that can't be moved in time, too.
How Flood Damage Affects Your Car
Flooding doesn't always damage your car. After all, vehicles are built to keep rain out. But when the flooding is severe enough, it can cause many kinds of issues in your vehicle.
Water can corrode the wiring in your vehicle and cause your electrical connections to short out. So, if you suspect your car may have flood damage, use caution when starting it. Flooding can also cause rusting on any metal surfaces in and on your car, including nuts and bolts which can then seize.
Lastly, when the carpet and upholstery become wet and stay saturated, they can grow mold and mildew. These seem relatively harmless compared to the other effects of flooding. But, left untreated, mold and mildew can have harmful effects on your health and cause nasty, lasting odors.
How We Do Flooded Car Repair
Our service department at Doral Toyota is staffed with expertly trained professionals who thrive in our maintenance center. They're seasoned in repairs ranging from simple oil changes to full-body repairs. This knowledgeable team will take your flood-damaged car and use their years of experience to repair it to the best of their abilities.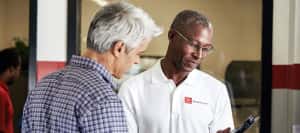 Whether you need an initial diagnosis or assistance in making sure your engine is safe to start, or help with drying out your car's interior, we have the tools and the training to help you reverse flood damage.
Schedule Your Service Appointment
Now that you know what flood damage can do to your vehicle and how our team can fix it, it's time to get you set up with a service appointment.
You can schedule a service appointment through our website. Under the service tab, you'll find a schedule service page. Simply fill out the required fields, including information about your vehicle, and then bring your car to the service department at the time you scheduled.
You can also schedule a service appointment by calling the service center directly and a member of our team can make the appointment for you.