Find Your Hangout for the Big Game
Well, you've got your lucky jersey on, your rabbit's foot, and perhaps even a pigskin in tow. The only thing that's missing now is a premiere hangout for you and your friends to revel in the excitement of The Big Game.
Here in Doral, FL, we're lucky to have so many awesome sports bars in and around town. These three may just be the best choices for a massive championship matchup.
City Works Eatery & Pourhouse | Connect on Facebook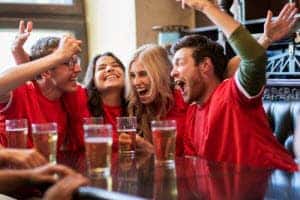 One of the best parts of The Big Game is the ability to shamelessly crush some even bigger brews in broad daylight—and on a Sunday, no less!
If you fancy yourself something of a beer snob, then you're going to want to hit up a sports bar with an excellent selection of brews.
City Works Eatery & Pourhouse really can't be beat, in this respect. The 8,000-square foot bar and restaurant is home to 90 different drafts, including some rare and limited kegs. Truly, it's a neckbearded football lover's paradise.
If there's people who know how to get raucous and have fun, it's the Irish. So, an Irish pub like Mike's at Venetia, which has frequently been voted one of America's best, ought to be an excellent choice.
Family-owned for 30 years, Mike's always operates with a sense of hospitality and fun. With their 20 TVs and massive menu, you can easily spend all day there.
In the past 25 years, Shuckers Waterfront Grill has proven itself to be not just one of the best sports bars, but one of the best restaurants in the entire area.
There's a couple good reasons for this. To start, Shuckers has a pretty amazing view of the Biscayne Bay (though we know your eyes will be glued to the TV on gameday). They also have a wide variety of specialty cocktails and fresh seafood dishes.
Of course, in honor of The Big Game, you'll likely want to chow down on a house specialty: Shuckers Special Grilled Wings. They're absolutely famous around these parts.
Make Your Gameday Sports Bar a Total Touchdown
Football isn't just about the game itself. It's about the excitement and the camaraderie (or rivalry) between fans.
If you're looking to enjoy The Big Game, and everything it entails, to its fullest, you'll definitely want to check out one of these three Doral, FL, sports bars.