Toyota Camry Maintenance Schedule

As a driver, keeping up with your Toyota Camry's factory-recommended maintenance schedule is maybe the most important thing that you can do. How else are you going to ensure that your car stays efficient, safe, and functional over the long haul? That's where our Doral Toyota team is poised to help out.
Our experts created this in-depth guide to the Toyota Camry maintenance schedule for our friends in FL: Doral, Kendall, Hialeah, and the surrounding communities. Contact us today to set up your appointment.
Manufacturer-Recommended Maintenance Schedule: the Toyota Camry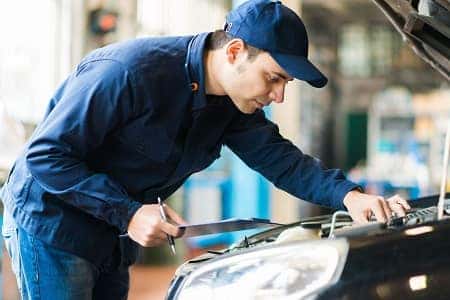 There are three major mileage/time intervals when it comes to servicing your Toyota Camry. There's the minor interval (5,000 miles/6 months), the intermediate interval (15,000 miles/18 months), and a major interval (30,000 miles or 36 months). Here's a closer look at what you can expect at each crossroads.
Minor Service Interval: 5,000 Miles or 6 Months

Driver's floor mat check
Drain plug gasket replacement
Tire rotation/tread depth
Tire pressure to correct psi
Inspect wiper inserts/blades
Exterior light bulb functionality
Brake lining – visual inspections
Adjust all fluid levels
Reset the maintenance/reminder light

Intermediate Service Interval: 15,000 Miles or 18 Months

The same as the minor service interval, plus…
Visually inspect brake linings/drums
Visually inspect brake pads/disks
Inspect and adjust the fluid levels
Ball joints/dust covers – inspection
Drive shaft boot condition
Brake fluid condition
Cooling system operation
Exhaust system operation
Fuel lines and fuel gap gasket

Major Service Interval: 30,000 Miles or 36 Months

The same as the intermediate service interval, plus…
Inspect the radiator
Inspect the condenser
Inspect the engine coolant
Steering/suspension components
Inspection of the exhaust system
Fuel lines and fuel gap gasket
Fuel tank vapor vent system hoses
Ignition wires – full inspection
Replace the spark plugs
Reset maintenance reminder light
Perform multi-point inspection with print-out
Full road test of the vehicle
And more!
Of course, if you've been driving aggressively (or if you've consistently been driving in rough conditions or terrains), you might want to consult us about taking a ramped-up approach to routine maintenance.
Schedule your Toyota Camry maintenance appointment today at Doral Toyota – contact us!
A well-built car like the Toyota Camry is a complicated piece of machinery. Luckily, you've got the Doral Toyota service team on your side.
Our expert automotive technicians are well-versed in not just routine maintenance, but emergency car repairs as well. That can lead you in the right direction, answering any questions that you might have about the maintenance information on this page. Then, they can perform all the necessary work, too.
Just call us on the phone, chat with us on our website, text us, or stop by our Service Department in person. We're just a short drive away from Hialeah, Kendall, Doral, and those other Florida towns.